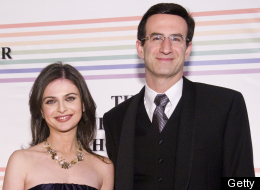 The ABC News financial reporter Bianna Golodryga has declared on "Good Morning America" Tuesday what was reported Monday: that she and boyfriend OMB Director Peter Orszag are engaged.
Orszag popped the question at lunch Monday at New York's Sarabeth's restaurant.
"He could say Golodryga and spell it after the first date," she said, "and that is a winner in my book."
The New York Post's Page Six reports that he hid a 5-carat cushion-cut Harry Winston diamond ring underneath Golodryga's menu.
Golodryga was wearing it, but would not show off, her ring.
The two has planned to get married in 2010.